Carma News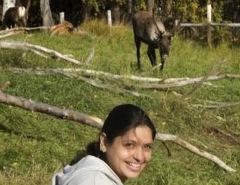 It is with deep sorrow we deliver the sad news of Archana Bali's death on 8:29am Alaska Time Monday, September 8th. Thus ends Archana's valiant fight against ovarian cancer for the past several years - a fight that she led always with a smile on her face and with her loving mother, sister, brother and fiancée by her side.
Click for more...
Caribou News
What's happening to caribou . . . in Alaska?


In summer 2013, biologists along the Alaskan coast were able to survey all four coastal herds. The weather was unusually warm and caribou aggregated together to reduce their exposure to insect harassment – ideal conditions for finding and photographing the aggregations. The counted numbers are now reported in the July 2014 issue of Caribou Trails - the newsletter for the Western Arctic Caribou Herd Working Group.

The good news was that the Porcupine herd has continued to increase and was counted to have over 197,000 caribou. But for people who depend on the other herds, the news was not good. The Western Arctic herd in 2013 at 235,000 caribou is half its 2003 peak size of 490,000 caribou. The Teshekpuk herd is also at about 32,000 caribou half the size it was in 2008 (68,000). Although the 70,000 caribou counted in the CentralArctic Herd in 2013 was similar to 2010, the aggregations included 10 collared caribou from the Porcupine herd which may indicate the CAH has started to decline.
Click here for the Western Arctic Caribou Herd Working Group newsletter.